Take a First Look: EPCOT International Food & Wine Festival presented by CORKCICLE
For the next 128 delicious days, guests can sip, savor, shop and repeat across six continents at the EPCOT International Food & Wine Festival presented by CORKCICLE! The festival kicked off yesterday and continues through Nov. 19, offering new experiences for foodies and fun-loving
families.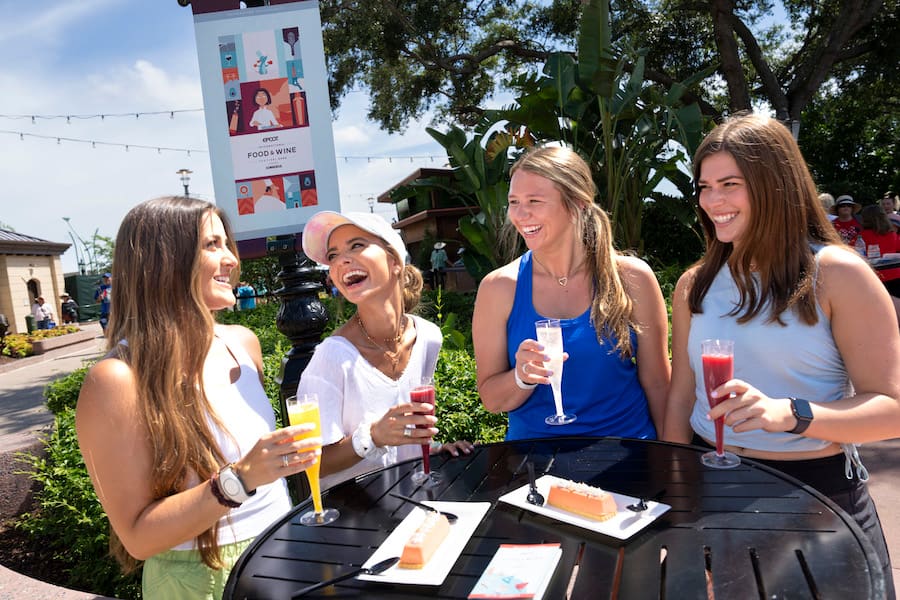 A passport for the palate, this iconic festival is a magical taste tour – one that whisks guests off on a fun and flavorful journey. It's a delicious celebration of the best in global food and drink along with live entertainment, family activities and more. This year, the creative Disney culinarily teams have dreamed up unique dishes as nearly one third of the menu offerings are NEW!
Guests can grab a Festival Passport to use as their handy guide to discover all the new sips and fresh bites available at the more than 25 Global Marketplaces throughout the park. These special food and beverage locations celebrate the best in global cuisine.
Debuting this year is The Fry Basket showcasing French fries presented with unique savory and sweet toppings – like the Fry Flight, featuring three different flavors!
For those who like to get an early start enjoying the festival and all that EPCOT has to offer, the Belgium marketplace will open at 8:30 a.m. daily to serve up delicious Belgian Waffles topped with either Warm Chocolate Ganache or Berry Compote and Whipped Cream, as well as Chilled Mocha Coffee.
All other marketplaces – including The Swanky Saucy Swine, Coastal Eats, Hops & Barley, The Alps, Germany, Spain, Canada, Australia, Greece, Brazil and Flavors from Fire to name just a few – will open at 11:00am daily to entice guests with exciting new options and returning fan-favorites. Be sure to check out the full Festival Foodie Guide for photos of many delectable offerings.
Don't miss the Eat to the Beat Concert Series presented by Florida Blue Medicare as well! Be sure to check out this incredible list of performances and make plans for which guests want to see. And don't forget about Eat to the Beat Dining Packages (for Friday through Monday concerts), which include a leisurely meal at a select EPCOT restaurant and guaranteed seating at a performance later that same day. To see the full lineup of artists, performance dates and pricing, and to make a dining package reservation, visit TasteEpcot.com.
It's time to sip, savor…and shop! Five new merchandise collections offer up fun and whimsical kitchenware, tabletop items, apparel, novelties and unique collectibles featuring favorite Disney characters such as Chef Minnie Mouse, Chef Mickey Mouse, Princess Tiana, Chef Figment and Chef Remy. Merchandise can be found at festival retail locations across EPCOT, with additional pieces debuting throughout the festival. Select items are also available on shopDisney.com.
But that's not all! There are other ways to have even more fun exploring the festival. Cheese lovers will love Emile's Fromage Montage and take a walk on the tasty side to sample dishes featuring cheese served in inventive ways.
Guests of all ages can enjoy Remy's Ratatouille Adventure where they'll join Chef Remy on a daring culinary journey and zip, dash and scurry through Gusteau's bustling Paris restaurant. And kids will want to embark on a Ratatouille-inspired scavenger hunt that's très magnifique in Remy's Ratatouille Hide & Squeak as well.
At the end of the day, Guests will want add to the magical memories made by watching "Harmonious" – one of the largest nighttime spectaculars ever created for a Disney Park.
To experience the 2022 EPCOT International Food & Wine Festival, contact your favorite Vacations with Character® Vacationista for all the details!